Settling for the perfect coat for either formal occasions, cool temperatures, spring days, or getting an all-in-one coat can be a struggle, especially when you cannot distinguish between trench coats and pea coats.
Trench coats and pea coats are a must-have in every man's wardrobe for their stylish and warm attributes. Being able to tell the difference between these two essential overcoats could make you a natural coat expert.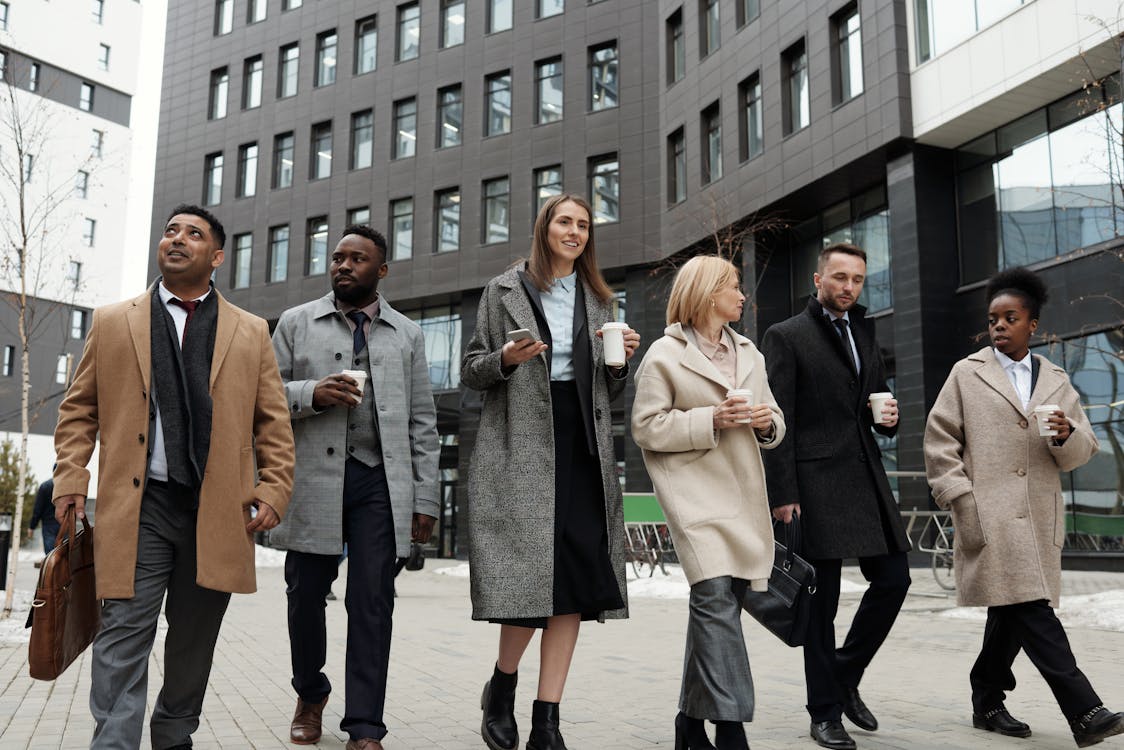 So, how does one become a "coat expert? Not to worry, this guide will break down the answer – whats the difference between a trench coat and peacoat, how to rock them, and the best choice between the trench coat and pea coat. Let's get started with their definitions.
What is a pea coat?
Pea coats are thin coats with sleeved sides. The coat was initially worn in Britain and the United States Navy to protect sailors from the cold breeze in the open sea. Pea coats are usually made with thick, heavy scratched black navy wool.
Today pea coats use lighter wool and diverse colors. Pea coats feature long fronts with wide lapels, large buttons on the shoulders, slits, or vertical pockets. It is commonly made from metal and wood. Modern pea coats are sometimes etched on the button anchor indicating their nautical history. A bridge coat is a peacoat worn only by officers.
A pea coat is a thin coat with long-sleeved sides worn initially in Great Britain by the European and American Navy.
The name "peacoat" was from the Dutch word "pije," which describes a coat made out of coarse wool fabric.
The pea coats worn by the US Navy and European and American sailors were a form of protection from the cold breeze in the open sea and aid in staying warm and dry.
The pea coats of the 1800s were thick, tough, and made of heavy-duty cotton and wool. The Dutch Navy wore the first variation of peacoats.
They had double-breasted fronts with large collars, buttons, vertical pockets, and broad lapels. Their buttons were either made of wood, plastic, or metal.
Unlike modern pea coats made with softer wools to remember their past, some pea coats have anchors etched on their buttons; this reminds them of their nautical history. But their large metal buttons on the slits, shoulders, and vertical pockets are still the same to date.
What is a Trenchcoat?
As explained above, sailors initially wore pea coats, but trench coats were worn and made explicitly for Army officers before they became fashion wear.
Officers wore trench coats to indicate upper-level hierarchy and were usually styled to have double-breasted fronts and made with a thick layer of insulation to keep them warm.
Did you know in the 19th-century, rubber was used to make traditional trench coats?
What's the difference between a peacoat and a truncated coat?
Pea coats and trench coats were both traditionally masculine staples that originated from the military. These clothes are now popular amongst women, especially in warmer months.
However, how does a pea coat differ from a trench coat? Peacoats can be shorter and are made of wool while the trench coat is longer and generally is constructed from heavy-duty waterproof fabrics. Their style feature also provides a way to differentiate them.
Modern trench coats are made from gabardine, a heavy-duty cotton Thomas Burberry introduced to the world. Cotton gabardine turned out to be a better option than rubber and used extra-thick wool instead because of its lightweight and durability.
Modern trench coats are not as popular today as they were in the 1800s, but they still have that similar feature of protecting an individual from the wet and the rain.
Trench coats are made from high-weight double-breasted fabric with wide lapels, and they have pockets with buttons and ten front buttons. They also have straps by the wrists and a belt by the waist. These features are important in differentiating between both trench coats and pea coats.
Traditional trench coats have a Khaki color, but modern trench coats come in different colors. The military history of pea coats and trench coats is all the similarities they share.
Whats the Difference Between a Trench Coat and Peacoat
Trench coats are very different in history and origin, purpose and usage, design, maintenance, water resistivity, length, and color.
Pea Coat Vs. Trench Coat- Their History
Pea coats and trench coats have existed for more than two centuries as a form of military wear, but one was in the navy and the other in the army.
Naval officers used pea coats in the 1800s to protect themselves from the cold winters and cold breeze of the sea, while army officers wore trench coats to show off their upper lever or high ranks.
As time went by, these coats were accepted into the fashion world and served as the perfect style for gentlemen, and today, they are worn to formal events, lunch, dinners, and workplaces.
Pea Coat Vs. Trench Coat- Their Key Difference
The key difference between pea coats and trench coats lies in their fabric material. Trench coats are made from cotton gabardine and poplin, while pea coats are mainly wool.
Pea coats originally worn by sailors were navy blue, and the traditional color of the trench coats was the khaki color.
The two coats are now available in different colors and more synthetic materials. They are versatile outwear for casual looks and professional and can be worn by both men and women.
Pea Coat Vs. Trench Coat- Their Design
Another main difference between a trench coat and a pea coat is their design. The trench coats and pea coats designs are made according to the following;
Environment and Purposes
Pea coats were designed to protect sailors against the cold temperatures and breeze from the sea, while trench coats were designed to protect soldiers in combat against the cold and rain by providing extra warmth.
Although both coats are still suitable for any climate because modernized designs of the trench coats and pea coats are more lightweight and breathable.
Material and Cost
Trench coats were once made of rubber, but they were uncomfortable, and were they switched to cotton gabardine, a waterproof material. Pea coats, on the other hand, are made of heavy wool.
When it comes down to cost, both trench coats and pea coats are graded based on their designer and fabric.
Belt
While trench coats have belts in the waistline, which gives the trench coat a definite shape, Pea coats do not have belts. Modern designers have tried to add belts to pea coats; an example is belt peacoats, but the belt addition doesn't give the coat a defined shape, and it's just there as a design.
Length
Most trench coats are very long loose coats, and some even extend to the ankle or shin, but pea coats have a short length and most likely will only extend to the thighs.
Water Resistivity
Water can seep through the material of a pea coat, but trench coats are made from a waterproof material called cotton gabardine
Custom Design and Color
The custom design for pea coats is a double-breasted front, broad lapel with 6 large plastic buttons, sometimes with metal buttons or wooden buttons, and slash/vertical pockets.
On the other hand, Trench coats are usually double-breasted fronts with wider lapels, 10 buttons, and storm flap and button-close pockets.
The pea coat has a more shape-defining look than the loose trench coat, but the trench coat can accommodate layers of clothes.
Traditionally, pea coats used to be navy blue and the trench coat in khaki, but with fashion evolving, both coats are now designed in different colors.
Trench Coat Vs. Pea Coat – Their Maintenance
Maintaining a trench coat and a pea coat is widely based on their fabric. The fabric of a trench coat is easier to maintain because it is made from a waterproof material slimming down the chance of getting stains and dirt on it.
Trench coats can be cleaned by hand or with a washing machine since their fabric is a mixture of heavy woven cotton, leather, and poplin textiles.
The maintenance of a pea coat is more difficult because of the heavy-duty construction of its fabric. Getting the heavy pea coat cleaned is usually done by dry cleaning.
But to be certain on what cleaning method is most suitable for your coat, read the Care label on the coats.
Why Buy a Pea Coat Over a Trench Coat?
If you want a thicker look over a thinner one, you should consider getting a pea coat instead of a trench coat.
Pea coats are most suitable for skinny men as they may probably look frail in trench coats, but the added bulk in the shoulder and chest area in a pea coat gives slimmer men a more befitting look.
Pea coats are also less restrictive in the knee area because of their length and are a better option for movement. So, if you want a warm and less restrictive coat, a pea coat is the best choice.
Why Buy a Trench Coat Over a Pea Coat?
The trench coat is made of wool and is thicker and bulkier than the pea coat, making it the best coat for areas with a colder temperature as it insulates and protects the entire body. Buy a trench coat for a thicker look, warmth, and full-body protection.
We are sorry that this post was not useful for you!
Let us improve this post!
Tell us how we can improve this post?