Welcome to the LeanWithStyle Resources section. This section is a well thought out list of tools that I strongly recommend for building your dream physique.
When it comes to the supplements, products, and accessories I use, this is what I recommend. I have tested everything on this page myself. I believe that this page will be helpful for those of you need some quick solutions that you can trust (everything on this page, I have personally tried and seen results with).
The links on this page are affiliate links, which means that if you choose to buy a certain recommendation, I will earn a small commission (no extra cost for you).
Please understand that I have experience with all of these products and companies, and I recommend them because they are helpful and useful. These products are NOT necessary for you to succeed, however, they will speed up the process or make it a whole lot easier for you.
Please also understand that I do NOT and have NOT received any free products or endorsements for putting these products on this page. Again, these are products I have tried myself and that I believe will best help you.
My Top Recommendations For Each Category:
#1 Recommendation for Fitness Books
Bigger Leaner Stronger 
&
Thinner Leaner Stronger 
by Mike Matthews
No products found.
There's really not much to say other than this book is amazing.
With over a million copies sold and a 4.7/5 star average from 3700+ reviews on Amazon, this book is a standout among the crowded fitness-space.
​If you're looking for an "all-in-one" package for everything fitness (and I mean everything – Mike does not hold back), then this is the book for you.
I've been following Mike for over 5 years now and he is one of the few guys I listen to when it comes to fitness.
At the price of only 8$, you can't go wrong.
Do yourself a favor and get Bigger Leaner Stronger Today.
#1 Recommendation for Home Workout Equipment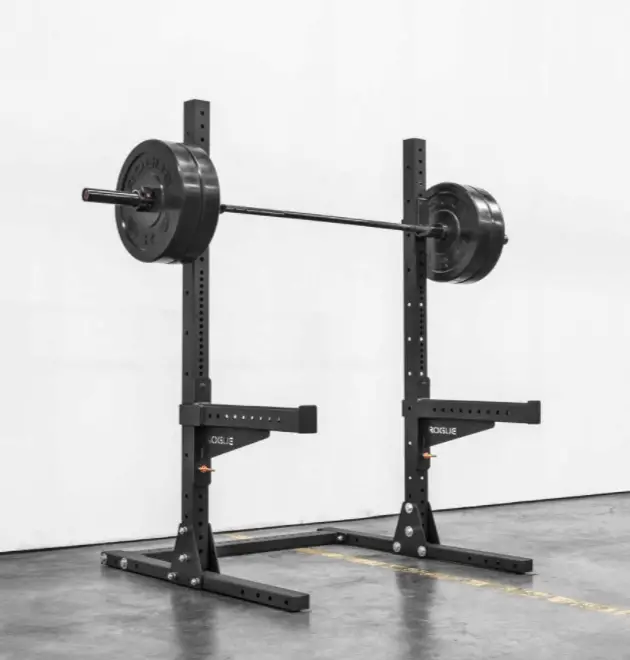 Just bought this bad boy and put it in my garage.
I can't say much other than this thing is the best squat rack for your home/garage gym. It's just that good.
I have my own written review of it here.
If you want to see my video review, here it is:
https://www.youtube.com/watch?v=k5IpSZjkTUo
#1 Recommendation for Supplements
Legion Pulse Pre-Workout by Legion Athletics
No products found.
Pulse is my go-to supplement, regardless if I'm cutting, bulking, or maintaining.
It's that effective.
I've written a full in-depth review about it here.
Essentially, I love PULSE because:
it doesn't break my fast (I follow Intermittent Fasting so this is important to me)
There's no crash after
No jitters or feeling that your heart is going to explode.
Most importantly, it's effective. Period.
The job of a good pre-workout is to actually get you through the workout, whether it lifting or cardio, and give you that extra push.
​
PULSE checks off all of those options.
#1 Recommendation for Programs
Visual Impact Muscle Building By Rusty Moore
Rusty Moore, creator of the Visual Impact Muscle Building program was a former trainer for fashion models whose primary focus was gaining strength without adding much size.
The program is broken into 3 phases (phases 1 & 2 are spent building muscle. Phase 3 is all about dropping excess body fat):
1. Sacroplasmic Hypertrophy (Adding size to your physique until you're happy with your size)
2. Increase Muscle and Density (Filling up that size with strength and muscle)
3. Max Density and Definition (This is where you drop the excess fat).
With this program, you're getting a bulking and cutting program in one and that is totally worth it for its price or $37.
For the price, it's the best value. There are other programs out there, but this is a great one.
#1 Recommendation for Self-Help Books
The One Thing ​by Gary Keller and Jay Papasan
No products found.
Whether you have a fitness goal, a business goal, a relationship goal, or any important goal, read The One Thing first.
This book gets straight to the point (very little filler – which I love).
The book is predicated on one simple question:
​What's the ONE THING ​I (you) can do such that by doing it, everything else will be easier or unnecessary?
​Gary Keller and Jay Papasan have created something special here. Its an amazing book and a definite read for anyone looking to accomplish something important to them.
#1 Recommendation for Health and Fitness Apps
Myfitnesspal
By Under Armour
If you're not tracking calories or macros, then you're probably not seeing progress as fast as you'd like.
MyFitnessPal helps with that. This app is not only FREE, but it helps you track your daily food intake.
Tracking the food that goes into your body is not only helpful, but crucial for your weight loss success.
I've created my whole diet structure around tracking macros.
Download the easy-to-use app now. Its FREE!
My Other Top Fitness Book Recommendations
No products found.
Before Bigger Leaner Stronger came out, there was this book. It is one of the most popular strength training books out there today and has been for a while.
Its definitely aimed at beginners who want to start strength training. The program is revolved around compound exercises: The Squat, Deadlift, Overhead Press, and the Bench Press. If you have no prior experience with lifting weights with a barbell, grab this book. Its a no-brainer.
No products found.
This was one of my first books I purchased in my fitness journey. While I don't believe its absolutely necessary for everyone, it definitely helps you SEE exactly what exercises do to the body and how to do them.
The book is absolutely stunning and very detailed. They did NOT hold back with this one. If you want to learn about what exercises are the best for each muscle group, pick up this book now.
No products found.
Do you follow IIFYM or Flexible Dieting? Do you hate eating chicken breast and broccoli every day after a workout? Then you're going to want to buy this book. It's simply amazing.
The recipes are good. Its detailed. It includes macros for each recipe. Get it if you're bored with your diet and want to spice things up.
No products found.
Mike Matthews newest book is something I didn't think I'd get much value from. I'm not who puts too much stock into "motivation" but I got to tell you… Mike KNOCKS it out of the park with this book.
It's not your "get pumped up" book. It tells you practical information that you can apply in the moment. It's pretty amazing. What can't Mike Matthews do?
My Other Top Home Workout Equipment Recommendations
Look, if you want a barbell that will last you YEARS, then you want to get the Rogue Ohio Power Bar.
It is the GOLD-STANDARD of barbells. It's incredible.
There are so many things you can do with it: Overhead Press, Overhead Squats, Squats, Lunges, Deadlifts, Curls, Skullcrushers, etc.
All you need to do is buy some weight plates and you're set. The benefits of having your own Barbell are endless. Definitely a must-buy if you have a home gym.
Here's my video review of it:
Multi-Gym Doorway Pull-Up Bar ​Elite Version
No products found.
This is the exact same pull-up bar I use in my home.
It's portable, sturdy, doesn't mess up your door, and just flat out works.
It has the wide grip handles and neutral grip handles for those of you who can go wide.
You can also put the bar on the floor and do dips, sit-ups, and push-ups with it without damaging the floors.
This is a great option and a must-have for your home!
I have this bench in my garage under my Rogue squat rack. It can incline and decline as well as act as a flat bench. It can also sit up at a 90-degree angle for other purposes.
It has wheels so you can roll it around wherever. It also looks nice (look at that red :D).
While there are better benches out on the market, this is the one I use at the moment because its a reasonable price and it works.
Eventually, I'll upgrade, but for now, it's fine.
My Other Top Supplement Recommendations
No products found.
While I do not believe fat burners are necessary to lose fat, they do help you lose fat faster. I use PHOENIX because its 100% natural, caffeine free, and helps me lose an additional 0.5-1 pound per week.
In short, it speeds up your metabolism, helps your body burn fat more efficiency, and helps you control hunger and cravings and maintain high energy levels.
Make sure to use code LWS10 to get 10% off!
No products found.
Forge is special. There aren't many supplements out there like it. Its specifically for fasted training. If you do NOT like or plan to train fasted, then do NOT buy this. It only works if you train in a fasted state.
When you train on an empty stomach, the potential to lose muscle increases. If you're also in a caloric deficit, the potential increases even more. Forge counteracts this effect by helping you lose fat faster without sacrificing your gains.
Make sure to use code LWS10 to get 10% off!
No products found.
WHEY+ is my protein powder of choice because its low in calories (100 calories per scoop), tastes great, and mixes well.
From its website:" It contains no GMOs, hormones, antibiotics, artificial food dyes, fillers, or other unnecessary junk…"
I use this in my yogurt, my pancake mix, and of course, my protein shakes. Highly recommend it if you need some quick, good tasting protein.
Make sure to use code LWS10 to get 10% off!
My Other Top Health and Fitness App Recommendations
I'm sure you've heard of the meditation app, Headspace. Not only is it incredible, the recordings are so good, its insane.
Look, if you asked me if I would ever get into meditation 5 years ago, I would've looked at you like you're crazy. Headspace, however, has changed my belief. It keeps me calm, focused, and gets me into my prime state whenever I'm feeling stressed. Its truly incredible. Just try the 10 free "basic" meditations and you'll see what I mean.
Under Armour sure does know how to make apps.
This one is simple and easy to use. If you run/walk/cycle outside (not in the gym), then you should download MapMyRun (there's also MapMyWalk/Run/Cycle but MapMyRun still tracks them all regardless).
It syncs up with your phone or smartwatch and also MyFitnessPal to show you how far you've gone and how many calories you burned, etc.
Stacked is a workout tracking app. Its beautifully designed and keeps track of just about everything you need besides calories and macros.
You can track your progress on certain lifts, make custom workout routines so you can track them DURING your workout and see your progress over time on the things that matter most to you in the gym.
My Other Top Program Recommendations
If you follow any "fitness" guy on YouTube, Radu Antoniu from ThinkEatLift, should be added to your list.
His videos are amazingly detailed and so is his ShredSmart Program.
It includes workouts for novices and intermediates and follows intermittent fasting as its main dieting structure.
It also has a bonus section "Transitioning to Lean Bulking" after you've finished the program. Definitely worth the price.
Make sure to use code LWST to get 10% off!
Looking to burn fat and increase your V02 max? This program has you covered.
Its an older program, but that doesn't mean the information is obsolete. Rusty Moore, creator of the program, approaches cardio in a strategic way that allows for maximum fat loss. It's definitely not easy, but it's effective.
If you love carbs, do I have a program for you!
This program isn't a fast approach to fat loss. It focuses more on the long-game approach, something that you could follow for life.
The program is basically limiting fats and protein to 10% of your diet while the rest comes from carbohydrates. Sounds crazy I know, but the benefits are incredible.
My Other Top Self-Help Book Recommendations
No products found.
This biography on Tony Stark Elon Musk sheds a light into Elon's life and its incredible (not always in a good way).
Elon doesn't accept the word "impossible." In this fascinating book, you get to see his work ethic, courage, and genius that's on another level. It's a must-read, period.
No products found.
If you're a man and haven't read this book, then you're missing out.
It's short and to the point. No fluff. Just a great book that you re-read every couple months.
No products found.
Robert Greene's book on power is a national bestseller for various reasons.
It explores history's most powerful humans and how they came to power and why. If you're a history buff or just love good storytelling, then you want to read this book. I'm sure I don't need to convince you of buying this book. The reviews speak for themselves.
No products found.
The 10 Pillars of Wealth is a book I recommend to almost everyone looking to live a better life and find wealth.
This book is actionable, inspiring, funny (Alex holds nothing back), and infuriating. Alex tells the truth in this book and the truth hurts. This is a must-read for anyone looking to make money and transform their mind-set.
Last update on 2023-12-02 at 20:55 / Affiliate links / Images from Amazon Product Advertising API