Best Budget Rack
Summary
If you're wondering if the Rogue SML-1 70" Monster Lite Squat Stand is right for you and your home or garage gym, then you're in luck. 
This is the best budget home gym squat stand (if you take advantage of Rogue's shipping deals - info down below) you can buy if you're looking for something that will last you years. 
Read on to see why and why I recommend it to anyone looking for a high-quality rack for their home or garage gym.
Price
While there are cheaper squat stands on the market, none come close to the quality that Rogue Fitness offers.
Effectiveness
Heavy-duty and a small footprint. Great for a garage or home gym, the Rogue SML-1 will handle anything you throw at it with its 1000 pound weight capacity.
Value
If you're just looking for a home gym squat stand, one that'll last you a long time and that'll provide you great customer support, then the Rogue SML-1 is the perfect value.
Color: Black
Length: 48"
Width: 49"
Height: 72"
Weight Capacity: 1,000 lbs.
Attachment Options: Spotters ONLY
Other: Has Westside Hole Spacing
Pros
Incredible Build Quality
Small Footprint (Great For Garage Gym)
Great for Those on a Budget
Cons
No Numbering for Holes
No Pull-Up Bar
No Attachments (Spotter Arms Only Option)
So why did I buy the Rogue SML-1?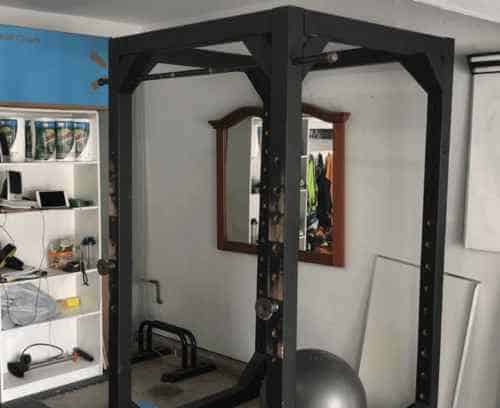 That's why.
I built that squat rack with my friend and it actually lasted a while.
Eventually, it started to shake every time I put the barbell back onto the rack.
It was no longer safe and I was afraid to squat with any type of heavyweights 😀
Now I have the squat rack Rogue SML-1.
Let's talk about why I chose this specific rogue squat rack:
Color:

Black

Length:

48"

Width:

49"

Height:

72"

Weight Capacity:

1,000 lbs.

Attachment Options:

Spotters ONLY

Other:

Has Westside Hole Spacing
Why Rogue Fitness?
Rogue Fitness has been one of the top gym-equipment companies for a while now. They just produce quality products (i.e., power rack, benches, barbells, and anything you need for a home gym). I've spent thousands with their company and have not had a single complaint yet on the quality of the products.
The SML-1 Rogue 70 Monster Lite Squat Stand is no exception.
It's built well.
It's sturdy.
It has a 1000 pound weight capacity.
It can handle anything you throw at it and it's great for a small garage gym like I have.
I do Overhead Press, squats and the bench press all with this small squat stand. It's great.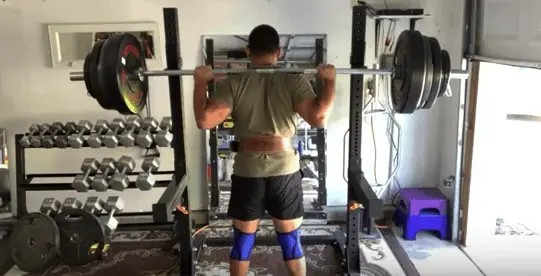 I highly recommend picking up the spotter arms if you plan on going heavy (which you should) and near your 1RM.
The SAML-24 monster lite safety spotter arms have saved my life multiple times.
It is an extra charge, but it's definitely worth it.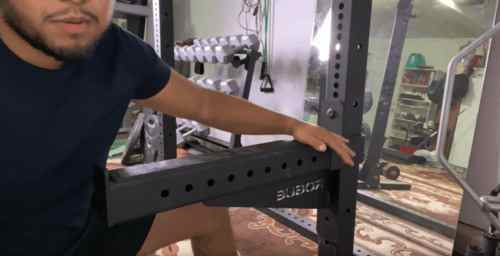 If you have weights, a barbell, and a bench, you really don't need anything else to complete your home gym except, maybe, a pull-up bar.
Pros of the Rogue SML-1 Squat Stand
Amazing Build Quality
The Rogue Monster Lite Squat Rack has a lot going for it like:
Westside hole spacing
High-quality Monster Lite J-Cups
11-gauge steel uprights
Easy to build (only took me 20minutes – no tools required)
Powder coat process finish
Looks and feels high-quality (it's a beast)
Not Too Big (Great for a Home or Garage Gym)
The SML-1 stands six feet tall and holds a footprint of 48″ x49″.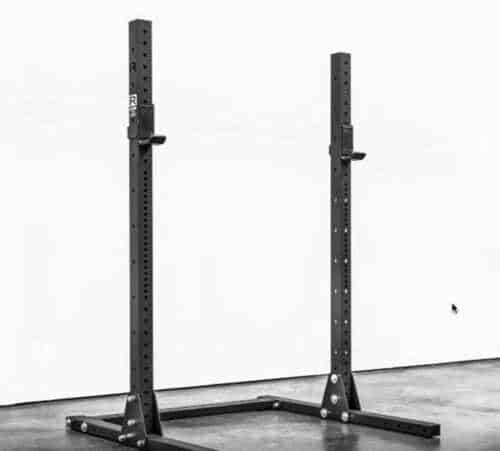 As you can see, it doesn't take up too much space in my garage gym.
I only use up half of my 2-car garage.
I got everything from
dumbbells (5-50lb),
Powertower
a treadmill,
barbell storage,
and plate storage.
The SML-1 fits right in.
Optional Attachments are Great (and Not Optional IMO)
The SML-1 also has the option to attach bands to it with the included band peg holes (you still need to buy the band pegs themselves).
While the SML-1 comes without the spotter arms, it's great to have that option to buy them.
Rogue Safety Spotter Arms Overview
The SML-1 does not come with the SAML-24 Safety arms. They are actually an optional attachment.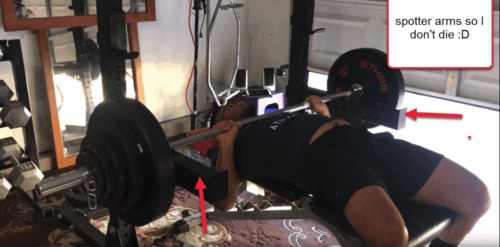 However, if you're like me and like to test your 1 Rep Max without a spotter like an idiot, then these are definitely NOT optional in my opinion.
Whether you want to:
Test your 1 rep max on the Bench or Squat
Do pause/pin Bench Press
Do pause/pin Squats
Just feel safe when squatting/benching heavy ass weight.
You want to get your hand on these
You won't regret it and can work out alone without the fear of failing 😀
As I said in my video review, these spotter arms have saved my life MULTIPLE times.
Also, the westside hole spacing makes it very easy to make sure the spotter arms are in the perfect spot.
Color:

Black

Length:

48"

Width:

49"

Height:

72"

Weight Capacity:

1,000 lbs.

Attachment Options:

Spotters ONLY

Other:

Has Westside Hole Spacing
Cons of the Rogue SML-1 Squat Stand
The SML-1 Squat stand is not without its cons.
Let's talk about them.
Con #1 – no numbering for holes
While each hole in the SML-1 is equally spaced, there are no numbers indicating what hole it is.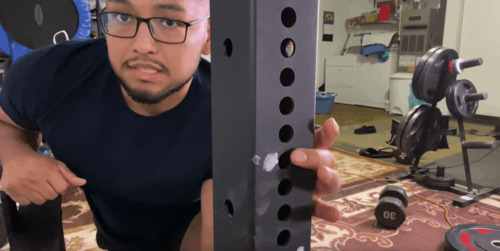 That is why I used liquid chalk (you can use a white-out marker too) to "mark" where I put my safety arms and j-cups.
If you workout alone and are going to be the only one using the squat stand, this isn't much of an issue.
Just something I wish they would update for the next iteration of the SML-1 squat stand.
It doesn't take away from the quality of the squat stand.
Note: I understand it is probably not possible to number the westside holes (smaller holes near the bottom of the power rack) because there is no room. I am talking about the numbering for the holes at the top of the squat stand.
Con #2 – No pull-up bar
This SML-1 squat stand is that 70-inch variant and does not come with a pull-up bar attachment.

The SML-2 squat stand does come with a one, however.
I opted for the SML-1 because I already have a doorway pull up bar and a power tower so I did not want to spend the extra money for the 90-inch variant.
Plus, for my garage gym, it would've been too high.
Nonetheless, if you want the pull-up bar to come with it, then buy the Rogue SML 2.
You can also buy the SML-1 and a doorway pull-up bar or power tower separately as I did.
No products found.
I prefer this option because if I wanted to do pull-ups during my workout (or if I superset something with the barbell), I would have to move it in order to use it.
Con #3 – No Plate Storage
On the Rogue Fitness website, they say the following:
"Due to no pull-up bar connecting the uprights of the SML-1, certain attachments such as the Monster Lite Matador and Plate Storage Posts are not recommended. Use of these accessories in conjunction with the SML-1 Squat Stand can cause severe injury to the user and damage the equipment."
In my case, this was not an issue as I already had a plate "tree" storage thing that I purchased from Amazon:
No products found.
The Rogue Plate storage pair is $50 and only holds a certain number of plates (it's attached to the squat stand) whereas the plate storage tree from Amazon (linked above) can hold a lot more than that and organize it better.
Rogue Fitness offers its own plate tree's but it cost $178.
How to Save Money on Shipping For the Rogue SML-1 and Other Home Gym Equipment
The unfortunate part about buying home gym equipment is the expensive shipping cost.
However, Rogue offers everything from Power racks, benches, weights, and more with exclusive free shipping promos.
For example, if you want to buy a power rack(s), and you were to buy a barbell with it, you would get free shipping for everything in your cart.
That's pretty sweet.
They also have other shipping promotions like "3 ships free" for other things like their belts and other equipment.
Definitely take advantage of this if you want to save a couple of hundred dollars 😀
We are sorry that this post was not useful for you!
Let us improve this post!
Tell us how we can improve this post?
Last update on 2023-12-03 at 00:58 / Affiliate links / Images from Amazon Product Advertising API